Why Me, and not another REALTOR?
I can offer something not a lot of other agents have achieved…EXPERIENCE. I currently own 15 and manage more than 25 rental properties combined with my brother dealing with more than 60 tenants. I have more than 18 years of experience in buying, selling, owning, and managing rentals and their tenants. I decided to obtain my Real Estate License while in the middle of purchasing these properties because I was unhappy with the lack of investing experience that my agents had currently offered.
Many deals are lost due to not structuring them properly. I can offer many creative suggestions that will help create a win/win deal by using negotiation tactics that only the top real estate investors know about. In other words, I am able to "think outside the box" in order to achieve the best possible results for you.
The difference between SUCCESS and a costly mistake 
is the difference between choosing an agent 
who is familiar with INVESTING in Real Estate, 
rather than one who simply buys and sells homes for clients.
My Commitment To You
I am a full-time professional REALTOR, as well as a real estate investor. I am educated in the legal aspects of real estate practice in the State of Colorado to provide real estate services. As a member of the Colorado Association of Realtors, I abide by a strict Code of Ethics to provide you with the highest level of service. As an associate of Home Real Estate, I am part of one of the strongest networks of professional REALTORS in Colorado. I earn my living by serving the needs of homebuyers and sellers with integrity.
Skilled Service
A large part of my work is performed behind the scenes: previewing homes, researching comparable sales, gaining market knowledge, evaluating changing legislation, and maintaining my professional credentials. For every hour I spend showing you homes, I will have spent up to 10 hours preparing. I am constantly acquiring information that will help me to better serve you.
How I Am Compensated
I am not paid a traditional salary. I work entirely on commission, which I receive only if I initiate and complete a transaction for you. I am compensated only when all of your needs have been satisfied and you take ownership of your new home. All of the services I provide are uncompensated unless you purchase a home through me. Real Estate commissions traditionally are paid at the close of escrow from the Seller's proceeds.
Your Commitment To Me
I will invest substantial time and effort in locating your home and will represent you with unequaled integrity throughout the purchase of that home. In return, I request your loyalty – a commitment that you will work exclusively with me in selecting and purchasing your home.
Putting Me To Work For You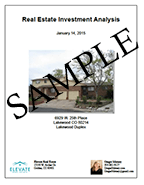 If you see any home that interests you, ask me about it. Whether it is advertised by a sign, in the newspaper, "For Sale By Owner," listed with another REALTOR, new home construction, or not even on the market – I am able to best represent you in the pursuit of that property. 

If you have any questions about how I work, please ask. Our relationship is critical to the successful purchase of your new home.
See a Sample Investment Report